Details
Edgestitch foot #10 (The most vesatile Bernina Presser Foot you will ever OWN!)
The topstitching expert
Edgestitch foot #10 is a practical help for sewing finished edges even and straight. Superbly suited to applying lace and trims, Edgestitch foot #10 is also ideal for topstitching edges, pleats and hems.The guide blade in the center of the foot helps you sew seams and hems running perfectly parallel to the edge in next to no time.
Heirloom Sewing
The guide on Foot #10 is shorter than the one on Foot #5 and provides more contact with the fabric. This makes it useful for edgestitching and especially helpful when working with lightweight fabrics. This is the reason Foot #10 is a favorite for heirloom sewing, which requires the precision stitching that this foot offers.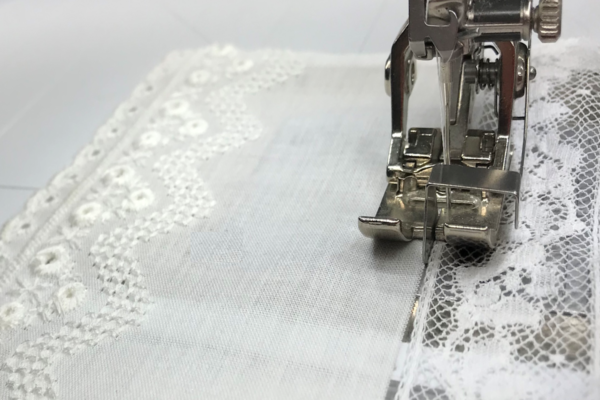 Edgestitching
As the implies, Edgestitch Foot #10/10C/10D is perfect for edgestitching. Place the fabric edge next to the guide, either to the right or left. Adjust the needle position to stitch on the fabric as desired. Because the guide does not extend back through the center of the foot, you can easily maneuver around curved edges.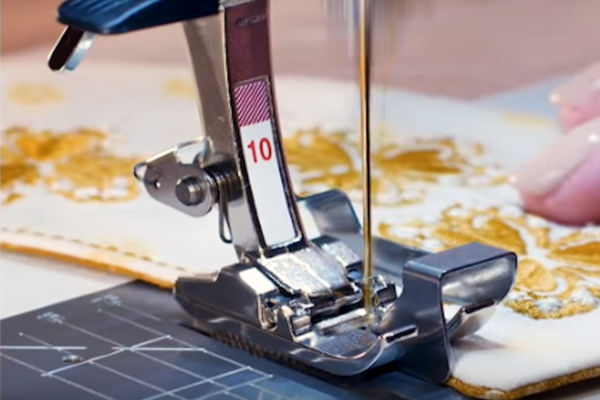 Foot #5 can also be used for edgestitching with some limitations. It works on medium to heavy weight fabrics, but not lightweight ones. Because the guide keeps the foot from making full contact with the fabric, it tends to feed unevenly on flat fabric. If you choose to use Foot #5 for edgestitching on medium to heavy weight fabrics, be aware that all of the left needle positions may be used. The only other usable needle position is the far right one. Any of the other right needle positions will cause the needle to strike the blade, likely breaking or dulling the needle.